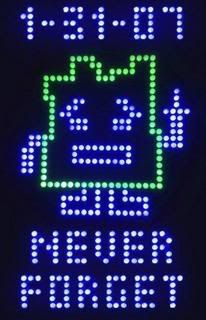 This post has nothing to do with porn, but everything to do with the outlaw spirit of porn so many of us embrace and hold sacred…so there!
One year ago today the media and the Boston Police Department turned a promotional gag for Aqua Teen Hunger Force into a Media Borne Event, terrorizing innocent people nationwide with the false fear of bearded terrorists lurking in the shadows waiting to strike out at our civilian population. How did they accomplish this Herculean task? By bringing in the Bomb Squad to blow up light bright sets on FOX News.
Ironically enough the whole scenario seems like something from an episode of ATHF featuring the Mooninites. Ahhh…good times. All that was missing was (former) Presidential candidate Rudy 9ui11ani promising us that everything was going to be okay and Bill Clinton roaming the streets hugging people.
The FOX News quotes are just plain hilarious. Listen to them closely.